Ph.D. Students
Colin Dring
Ph.D. Candidate in Integrated Studies in Land and Food Systems, University of British Columbia
M.Sc. in Rural Planning, University of Guelph (2012)
B.Sc. in Agroecology, specializing in Soil Science, University of British Columbia (2009)
Bio
Colin is an advocate for ecological sustainability built through a collaborative network of intercultural change agents. He is a community developer, a change facilitator, a researcher, a connector, and a lover of the outdoors. He has over ten years of experience in the field of community food security, agricultural planning, community development, and agri-food policy.
Colin has worked with multiple levels of federal government including Environment Canada as an Air Quality Planning Assistant and Agriculture and Agri-Food Canada as part of the Research Affiliate Program. He has also volunteered on numerous non-profit boards and municipal advisory committees including the BC Food Systems Network, the Garden City Conservation Society, Richmond Agricultural Advisory Committee, and Richmond Environmental Advisory Committee.
While running a youth and community development project (Katimavik) in Nova Scotia, Colin learned the importance of relationships and community to achieving social change. Subsequently, Colin was offered an opportunity to advance progressive food and agricultural change working at a non-profit organization in his hometown of Richmond, BC (the Richmond Food Security Society). As Executive Director, he worked on building community food security and civic governance among diverse Canadians. He has consulted on organizational development for the Greater Vancouver Food Bank and for Young Agrarians (a new farmer initiative) and conducted research with the Centre for Sustainable Food Systems at UBC Farm examining Intercultural Food Security and Health Equity in Richmond, BC. This work inspired Colin to pursue his studies in the advancement and understanding of ethno-cultural food systems and the link to greater civic engagement through food and agricultural governance.
Colin's professional Master's explored scenario-planning for climate change decision-making in Southern Ontario, adoption of agricultural technologies to address water quality in Eastern Ontario, and community development programming in new immigrant housing at the University of Guelph. Colin is now pursuing his doctoral studies at the University of British Columbia's Faculty of Land and Food Systems. His research project is titled: "(In)Visible Minority Farmers & Canadian Food Systems in Transition: Governance & Representation." In his spare time, he climbs rocks, hikes BC's rugged landscapes, and samples Vancouver's cuisine and microbreweries.
Selected Publications
Ostenso, V, Dring, C, & Wittman, H (2019).Planning for Whom? Towards Culturally Inclusive Food Systems in Metro Vancouver. J. Agyeman (ed). Immigration, Immigrants and Food in North America. MIT Press (in press)
Dring, C, Lee, S, & Rideout, C. (2019). Elementary school teachers' perceptions of factors promoting or hindering use of outdoor learning spaces. Canadian Journal of Environmental Education. (in submission)
Dring C, Devlin J, Boag G, Sunohara M, Fitzgibbon J, Topp E, Lapen D. (2016). Incentives and disincentives identified by producers and drainage contractors/experts on the adoption of controlled tile drainage in eastern Ontario, Canada. Water Quality Research Journal. 51(1): 1-16.
Dring C, Yeung L. & Wittman, H. (2016). An Exploration of Intercultural Food Security & Health in Richmond, BC. 29. Centre for Sustainable Food Systems UBC.
Dring C, Khaledi B, and Fritz C. (2013). Richmond Foodland Asset Report. 39. Richmond Food Security Society.
Dana James (she/her)
Email: dana.james [at] ubc.ca
PhD Candidate, Institute for Resources, Environment, and Sustainability, University of British Columbia
MPhil (2015): Geography, Newcastle University
BSc (2013): Environmental Resource Management, Penn State University
BSc (2013): Community, Environment and Development, Penn State University
Bio
Dana is a PhD Candidate and Vanier Scholar at the Institute for Resources, Environment and Sustainability and a settler of German, Dutch, and British descent. Broadly, her research interests centre on social and environmental justice, with a focus on agroecology, food sovereignty, and land justice. Her doctoral research investigates the spatial distribution of agroecological indicators across Brazil, participation in agroecology movements, and the contributions of agroecology to rural peoples' well-being. She's also a community organizer with social movements focused on climate justice and Indigenous self-determination.
Dana graduated from Penn State University's Schreyer Honors College in 2013 with dual degrees in Environmental Resource Management and Community, Environment, and Development, and dual minors in International Agriculture and Watersheds and Water Resources. She was granted a 2013 US-UK Fulbright award to attend Newcastle University, where she completed her MPhil in Geography. At UBC, Dana's academic and public scholarship are supported by a Vanier CGS Award; UBC's Public Scholar Initiative, Four Year Doctoral Fellowship, and International Tuition Award; the Liu Institute for Global Issues; Mitacs; P.E.O. International; and SSHRC.
Susanna Klassen
Ph.D. Candidate, Institute for Resources, Environment & Sustainability, University of British Columbia
MSc in Integrated Studies in Land and Food Systems, University of British Columbia, 2016
BSc (Honours) Agricultural and Environmental Science, McGill University, 2013
Bio
Susanna is a PhD candidate with the Institute for Resources, Environment and Sustainability, and is co-supervised by Hannah Wittman and Navin Ramankutty. Her research is about the social dimensions of food system transformation towards justice and sustainability, and draws from the fields of sociology, geography and political ecology. Her PhD research explores the contributions of organic certification to food system sustainability in Canada, with a focus on labour and agroecological diversification. She is the Vice Chair of Food Secure Canada and an Articling Agrologist with the BC Institute of Agrologists. Susanna grew up on Treaty 4 land, in the traditional territories of the nêhiyawak, Anihšināpēk, Dakota, Lakota, and Nakoda, and the homeland of the Métis/Michif Nation.
Publications
Sampson, D., Cely-Santos, M., Gemmill-Herren, B., Babin, N., Bernhart, A., Bezner Kerr, R., Blesh, J., Bowness, E., Feldman, M., Gonçalves, A. L., James, D., Kerssen, T., Klassen, S., Wezel, A., & Wittman, H. (2021). Food Sovereignty and Rights-Based Approaches improve Food Security and Nutrition: A systematic review.
Frontiers in Sustainable Food Systems
.
https://doi.org/doi: 10.3389/fsufs.2021.686492
Nawaz, S.,
Klassen, S.
, & Lyon, A. (2020). Tensions at the boundary: Rearticulating 'organic' plant breeding in the age of gene editing.
Elem Sci Anth
,
8
(1), 34.
https://doi.org/10.1525/elementa.429
Chapman, M.,
Klassen, S.,
Kreitzman, M., Semmelink, A., Sharp, K., Singh, G., & Chan, K. M. A. (2017). 5 Key Challenges and Solutions for Governing Complex Adaptive (Food) Systems.
Sustainability
,
9
(9).
https://doi.org/10.3390/su9091594
Klassen, Susanna E., & Wittman, H. (2017). Place-based Food Systems: "Re-valuing local" and fostering socio-ecological sustainability. In J. Duncan & M. Bailey (Eds.), Sustainable Food Futures: Multidisciplinary Solutions. Routledge.
Klassen, S. E. (2016). Decreasing Distance and Re-Valuing Local: How Place-Based Food Systems Can Foster Socio-Ecological Sustainability. Solutions, 7(4), 22–26.
Sarah-Louise Ruder


Ph.D. Student, Institute for Resources, Environment, and Sustainability at the University of British Columbia
M.E.S. in Social and Ecological Sustainability from University of Waterloo (2019)
H.B.Sc. in Environmental Science, with a minor in Philosophy, from Queen's University (2017)
Bio
Sarah-Louise Ruder is a Ph.D. student in the Institute for Resources, Environment and Sustainability at UBC, co-supervised by Professor Hannah Wittman and Professor Terre Satterfield. Interdisciplinary by training, Sarah-Louise is an environmental social scientist studying food systems, social-ecological sustainability, and novel agri-food technologies.
Her doctoral research explores the implications of digital technologies and big data in agriculture on food security, justice, and sustainability, focusing on the North American context. This research is funded by a Canada Graduate Scholarship from SSHRC and a Four Year Doctoral Fellowship from UBC. Concurrently, she is collaborating on a Genome BC project to research the risks, benefits, and governance challenges of gene editing in agriculture. Sarah-Louise began exploring novel agri-food technologies during her master's thesis research, which focused on Ontario grain farmer perceptions and experiences "digital farming" in Ontario, Canada. Her interdisciplinary research experience also includes work on environmental policy and governance, sustainable diets, and intersectional feminisms.
Beyond her research, Sarah-Louise supports transitions to more sustainable, just, and secure food systems in diverse contexts. Currently, she is the Secretary of the Board of Directors for the Canadian Association for Food Studies and a founding member of its Anti-Racism Working Group. She has over 8 years of experience in environmental activism and community education, including food systems work for Sustainable Kingston and Meal Exchange. During her undergraduate studies, Sarah-Louise acted as the Environmental Education Manager of The Tea Room—a carbon-neutral, zero-consumer-waste café. In 2017, her leadership in this position was recognized by Starfish Canada with a "Top 25 Environmentalists Under 25" award. Throughout her various roles, Sarah-Louise takes responsibility for ongoing learning and action regarding decolonization and anti-oppression.
Selected Publications
Clapp, J., & Ruder, S.L. (2020). Precision Technologies for Agriculture: Digital Farming, Gene-Edited Crops, and the Politics of Sustainability. Global Environmental Politics, 20(3). https://doi.org/10.1162/glep_a_00566
Ruder, S. L. (2020). The digital revolution is here: What does it mean for Ontario grain farmers? Ontario Grain Farmer, 11(5). Retrieved from https://ontariograinfarmer.ca/2020/02/01/the-digital-revolution-is-here/    [Public Scholarship]
Sanniti, S. R., & Ruder, S. L. (2019). Walking the Walk: Planning a Conference that Embodies Equity and Sustainability. Women & Environments International Magazine, (100/101), 7–11. Retrieved from http://www.yorku.ca/weimag/CURRENTISSUE/images/WEIMAG_100_101.pdf    [Public Scholarship]
Ruder, S.L., & Sanniti, S. R. (2019). Transcending the Learned Ignorance of Predatory Ontologies: A Research Agenda for an Ecofeminist-Informed Ecological Economics. Sustainability, 11(5), 1479. https://doi.org/10.3390/su11051479
Ruder, S. L. (2018). Farmer's voices missing: University of Waterloo research. Ontario Grain Farmer Magazine, 10(3). Retrieved from https://ontariograinfarmer.ca/2018/12/01/farmers-voice-missing/   [Public Scholarship]
Ruder, S. L. (2018). Clive Hamilton. Defiant Earth: The fate of humans in the Anthropocene. [Book review of Defiant Earth, by C. Hamilton]. Environmental Philosophy, 15(1):129-134.   DOI:10.5840/envirophil20181515
Masters Students
Atlanta Grant
B.A. (honours) in Food Equity and Human Geography, University of Toronto
M.A. Traditional Food Systems, Institute for Resources, Environment, and Sustainability, University of British Columbia
Bio
Atlanta is an Indigenous Masters (M.A) student in the Institute of Resources, Environment & Sustainability at the University of British Columbia embarking on her research around traditional food systems, knowledge preservation and food waste (or food 'cycling'). She will be looking at Indigenous food waste practises in hopes of reclaiming autonomy and food sovereignty within our Indigenous communities whilst addressing the need for a restructuring of individual waste practises within our urban environments.
Throughout her undergraduate career Atlanta was involved in assisting Toronto Public Health's Food Policy teams 'Public Health of Canada' report. Interviewing vulnerable populations in the Greater Toronto Area and their access to healthy and affordable food. During this time, she was also accepted by the Centre of Engaged Learning Abroad (CELA) research trip to Belize. Here, she studied with various Mayan communities, discovering issues around food sovereignty and Indigenous development the Belizean and Mayan communities continue to experience. It was through these experiences she began to think critically about her own Indigenous community within the Canadian context and ideals surrounding traditional knowledge and our physical environment.
Currently, Atlanta has just finished her Greenest City Scholar position with the City of Vancouver's Resilience Department (Vancouver Plan) and is working as the Indignous Health Research Facilitator for the British Columbia Network Environment for Indigenous Health Research.
Atlanta's journey at UBC has been supported by The Joseph-Armand Bombardier CGS Master's Scholarships SSHRC funding award, and the University of British Columbia's Aboriginal Graduate Fellowship.
Aleesha Jones
B.A. In Geography (Sustainable Resource Management Stream) and Indigenous/Xwulmuxw Studies, Vancouver Island University, Nanaimo BC (2020)
Bio
Aleesha Jones is an Indigenous Masters (MSc) student within the Integrated Studies of Land and Food Systems (ISLFS)program. She is Interior Salish from the Nlaka'pamux Nation in British Columbia. Aleesha was raised on Coast Salish territory and completed her undergraduate degree at Vancouver Island University in Nanaimo.
 In her undergraduate degree Aleesha majored in both Indigenous Studies and Geography (specializing in Sustainable Resource Management). This is where her passion for interdisciplinary work began, now at UBC Aleesha has continued to focus on interdisciplinary research. 
Aleesha's thesis work revolves around addressing and preventing modern colonization within research relationships between Indigenous communities and non-indigenous research institutions, with particular focus to food related research. Aleesha chose this area of research based on her previous and ongoing work with Agriculture and Agri-Food Canada (AAFC) within the Science and Technology Branch. Aleesha is a research affiliate with AAFC and as such has been supported in her research. 
Aleesha's studies have been supported by the UBC Aboriginal Graduate Fellowship.
Katherine Roger (she/they)

MSc Student in the Institute for Resources, Environment, and Sustainability (IRES); The University of British Columbia
2021: B.A. (Hons.) Geography, University of California, Berkeley
Bio
Kat's research interests fall broadly into agroecology, food sovereignty, ecosystem services, and indigenous sovereignty and decolonization movements. Kat's work in IRES focuses on agroecological transitions, storytelling, identifying metrics of change, and farmer-to-farmer education networks.
Kat's undergraduate work was hosted variously in Performance Studies, Geography, Ecology, and Evolutionary Biology, and she continues to work at the intersection of science, art, and activism. Her undergraduate thesis at UC Berkeley with Dr. Rosemary Gillespie and Dr. Natalie Graham focused on the impacts of invasive plant species on sap-feeding insect communities and their microbiota in the mixed land-use region of Point Reyes National Seashore, California.
Kat has worked and lived on farms in the United States, Latin America, and Europe, and has long been involved in farmer's markets, food justice work, and climate justice organizing. Kat is also a certified community herbalist in the Western/European tradition. She continues to serve as a member of the agroecological Executive Committee of the Foundation for the Islands of Old Providence and Santa Catalina (FIOPSC). Kat lives as a settler of English and indigenous Caribbean islander descent on unceded xʷməθkʷəy̓əm territory.
Chris Thoreau
MSc Student in Integrated Studies in Land and Food Systems (ISLFS); The University of British Columbia
2011: BSc. (Hons.) Agroecology, Faculty of Land and Food Systems; The University of British Columbia
Bio
Since 2001 Chris has been deeply engaged in agriculture in BC. He started as a farmer on Vancouver Island operating a small-scale certified organic mixed vegetable farm. During this time he also worked with local organizations to facilitate workshops and training opportunities for local farmers and sat on the local organic certifying committee. Seed became an important part of Chris's work and he attended numerous workshops and field days in BC and Washington while incorporating seed production into his farm operation. In 2006 he helped form what would become FarmFolk CityFolk's BC Seeds Program and conducted a comprehensive seed production survey for BC's organic sector.
From rural farming Chris transitioned to urban farming where he developed a unique urban microgreens production system in Vancouver while attending UBC. This system has gained international recognition as an innovative model for profitable urban food production.
In 2015 Chris returned to work in the seed community as Program Coordinator for the Bauta Family Initiative on Canadian Seed Security in BC with FarmFolk CityFolk. Through the Bauta Initiative, FarmFolk CityFolk has partnered with UBC Farm to conduct the BC Seed Trials, a province-wide participatory variety trials research project working closely with UBC Post-Doctoral Fellow Alexandra Lyon. Through conducting vegetable variety trials on farms throughout the province the project aims, with input from local farmers, to identify varieties which perform best in each region as well as those varieties which can be scaled up for bulk seed production.
This work has led Chris to return to school to better understand the community and seed system he is working with. Chris started his Master's in January 2017 in the Faculty of Land and Food Systems under the supervision of Dr. Hannah Wittman. His research is focused on understanding and supporting BC's organic seed sector with a particular interest in effective participatory research, movement building, and market development for bulk seed sales in BC.
When he's not fretting over seeds Chris is a competitive trail runner who often trains with his 8-year old son – where he tries desperately just to keep up most of the time!
Alums
Sophia Murphy
Ph.D. Candidate, Institute for Resources, Environment, and Sustainability, University of British Columbia.
MA (with distinction): London School of Economics in Social Policy and Planning in Developing Countries.
BA: Oxford University in Politics, Philosophy and Economics
Bio
I am a PhD candidate in the Resource Management and Environmental Studies programme at the Institute for Resources, Environment and Sustainability. I was awarded a Vanier scholarship and was also a 2013 Trudeau scholar with the Pierre Elliott Trudeau Foundation. I served two terms as a member of the UN Committee on World Food Security's High Level Panel of Experts (2013—2017).  I came to the PhD programme with 20 years of experience as a public policy analyst focused primarily on food systems, food security, and international trade. Most of my work was at the multilateral level, working with civil society organizations in the context of UN and the World Trade Organization negotiations.
I have published extensively on food systems, including book chapters, journal articles, as well as policy briefs and opinion pieces. I am bilingual (English/French) and a Canadian and British national. I live in Squamish.
Thesis Title & Description
"Resilient Food Security and the WTO: An assessment of adaptive governance"
My thesis focuses on the rules that govern international food trade, in particular the WTO Agreement on Agriculture. My question is, as an institution with an important if weakly defined role in the international governance of food security, to what extent is the WTO able to contribute to strengthening the resilience of global food systems? I start with two observations: first, that international trade plays a central rolein most of the world's national food systems, including in national food security strategies. Second, that the desirability of this role is the subject of fierce debate. The debate consists of advocates, who insist international trade provides an important strategy to reducethe risk that people will go hungry, and detractors, who insist international trade createsrisk in food systems, and increases food insecurity. In fact, trade has a complicated relationship with food security. Trade is an important source of food. But it can also divert land from food production into other, saleable, crops with the effect of reducing the supply of food on local markets. Trade affects the returns to farmers from their production, and the wages and amount of work available for farm labourers. Trade is important for nutrition, changing the composition of available foods and introducing foods that may have more or less nutritional value. Trade also changes the geography of food production and consumption, and the ecological footprint of food systems. I take an ethnographical approach to understanding international trade diplomacy, looking at 20 years of WTO agriculture negotiations to better understand how trade rules are negotiated and how those negotiations relate to evolving priorities for the global food security agenda. I introduce and define the concept of resilient global food security and use it to assess the WTO's capacity to adapt and learn in the face of the evolving challenges facing food security.
Selected Publications
"International Trade, Food Security and Nutrition," in Pritchard, B., Ortiz, R. and Shekar, M. (eds.), Routledge Handbook of Food and Nutrition Security, Routledge, Oxford/New York, 2016.
Co-author with Karen Hansen-Kuhn, "The true costs of US agricultural dumping". Renewable Agriculture and Food Systems 2019, 1-15.
Rebecca Wolff
MSc Student in Integrated Studies in Land and Food Systems (ISLFS), The University of British Columbia
B.Sc in Biology and B.A. in Spanish, University of Guelph
Rebecca is a National Geographic Explorer who works in Peru and Canada on projects related to environmental and physical health. She has over 6 years of research and project management experience in health, agriculture, and climate change adaption in Peru and Canada. She has studied human-centered and empathetic design, and collaborated with Indigenous doctors and leaders on work to improve health advocacy in Canada.
Rebecca has received both a Young Explorer and Early Career grant from the National Geographic Society. Her previous work looked at how perceptions of health and well-being relate to spiritual beliefs in the Amazon, and what this means for the design of health interventions that are inclusive of all belief systems. Rebecca's most recent work looked at the relationship between food, gender-norms, and Quechua culture, through community-led photography, in the Peruvian Andes with Mater Iniciativa. She completed her undergraduate degree at the University of Guelph in Biology and Spanish, and is now pursuing a MSc. looking at the relationships between food sovereignty and health.
Evan Bowness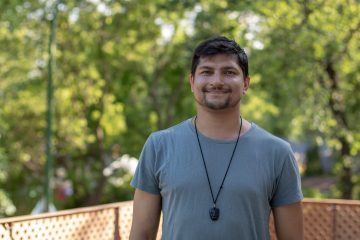 Ph.D. Candidate, Institute for Resources, Environment, and Sustainability, University of British Columbia
M.A. in Sociology, University of Manitoba
B.A. (honours) in Sociology, University of Manitoba
Bio
Evan's a visual sociologist and urban political ecologist working with Dr. Hannah Wittman. His research interests include food sovereignty, urban agriculture and agroecology, with fieldwork sites in Canada and Brazil.  He's taught a number of sociology courses at the University of Manitoba, including courses on visual methods and sociology and film. His work is funded by SSHRC, Mitacs and UBC.
Selected Publications
Kueneman, R. and E. Bowness. (2019). "The Social Context of Dispute Resolution and the Rise of 
Law" In Rick Linden (Ed.), Criminology: A Canadian Perspective. 9th Edition. Toronto:
 Nelson Education.
Bowness, E. and E. Comack. (2016). "Crime and Punishment: The More Things Change…." In Cy 
Gonick (Ed.), Canada Since 1960: A People's History: A Left Perspective on 50 Years of
 Politics, Economics and Culture. Toronto: James Lorimer & Company Ltd., Publishers.
Hudson, M. and E. Bowness (2014). "Directly and Adversely Affected: Public Participation in tar
sands development 2005-2014." Calgary: Parkland Institute. http://s3-us-west-
2.amazonaws.com/parkland-research-pdfs/Directly_and_Adversely_Affected.pdf.
Bowness, E. and M. Hudson. (2013). Sand in the Cogs? Power and Public Participation in the
 Albertan Tar Sands. Environmental Politics 23(1): 59-76. DOI:
10.1080/09644016.2013.821825.
Johnnie Manson
Ph.D. Candidate, Institute for Resources, Environment, and Sustainability, University of British Columbia.
M.Sc., Institute for Resources, Environment, and Sustainability, University of British Columbia, University of British Columbia (2015).
Bachelor of Arts  (With Distinction), Joint Major, in Sociology and Anthropology, Simon Fraser University (2013).
Technical Diploma, Fisheries and Aquaculture, Vancouver Island University (2006).
Bio
Hello! My name is Johnnie James Manson. I am a citizen of the Tla-o-qui-aht First Nation (a Nuu-chah-nulth First Nation located on the West-coast of Vancouver Island). My current research will be broadly looking at the nexus between Indigenous food sharing and trading practices in British Columbia, Indigenous worldviews, and neoliberalism (as a cultural project and a mode of statecraft). To do this, I will be conducting an engaged research process with the BCFSN WGIFS and Indigenous Communities of British Columbia.
Most of my work experience has centered on natural resources. I have worked in the salmon aquaculture industry (1999-2007), as a stewardship technician with the British Columbia Conservation Corps (2008), as an environmental technician with the Ktunaxa Lands and Resources Agency (2010), and as fisheries technician with Nuu-chah-nulth Tribal Council (2011). I have also worked extensively as a private tutor for sociology and anthropology students. Currently, I work with the BC Food Systems Network (BCFSN) Working Group on Indigenous Food Sovereignty (WGIFS), focusing on revitalization of Indigenous trading routes in British Columbia. I believe there is nothing wrong with living a life according to one's principles and letting those principles inform one's academic works.
My research passions are varied and many, and include (but are not limited to): Indigenous worldviews, Indigenous research paradigms, decolonizing methodologies, critical theory, environmental co-management, and continental philosophy.
I really like: hiking, punk rock, indie music, all types of other music, my culture, my family, and all types of boring (but useful!) theory
Jessica Dennis
MSc. Integrated Studies in Land and Food Systems, UBC, 2012 – 2015
BSc. Agroecology, Faculty of Land and Food Systems, UBC, 2010 – 2012
Political Science and Women's Studies, McGill, 2000 – 2004
Bio
I completed an M.Sc. in the Integrated Studies in Land and Food Systems program working under the supervision of Dr. Hannah Wittman. My broad research interests are sustainable agriculture, agroecology, food sovereignty, farmland protection and access, and agricultural land use policy and planning. I have an academic background in political science, gender studies and agrocecology. I returned to school in the Faculty of Land and Food Systems at UBC after working several years as a farm hand on Vancouver Island and have continued to work as farm labourer as well as a field research assistant a the UBC Farm while in school. I carried out a field research project in conjunction with Dr. Hannah Wittman and Dr. Mark Johnson to assess the feasibility of on-farm small scale biochar production and the potential of biochar for soil fertility management in BC's organic agriculture sector.  Over the past two years I have been collaborating on the Farmland Access project led by Dr. Hannah Wittman and hosted by the UBC Centre for Sustainable Food Systems. We are currently working on an initiative to establish a Foodlands Trust in BC with our community partners Farm Folk City Folk in Vancouver and CR-FAIR in Victoria.
Thesis
Emerging farmer movements and alternative land access initiatives in British Columbia, Canada.
This research aims to better understand the issue of young farmer attrition through an analysis of the barriers to farm entry and establishment faced by young and beginning farmers in British Columbia. The potential of alternative models and mechanisms to private agricultural land ownership (cooperatives, community farms, land trusts, incubator farms, public land access) are being assessed as a means for supporting farmland protection, increasing farmland accessibility, and contributing to food sovereignty in BC.
Selected Publications and Project Links
Farmland Access Research Website
Dennis and H. Wittman. (2014). Farmland Access in British Columbia. Final Project Summary Report.
Wittman and J. Dennis. (2014). Real Estate Foundation of BC Guest Blog Post: Strengthening Regional Food Systems through Alternative Models of Farmland Access.
Dennis. Young Agrarians – Guest Blog Posts
Dennis and Kelvin C.S. Kou. (2013). Evaluating the agronomic benefits of biochar amended soils in an organic system: Results from a field study at the UBC Farm, Vancouver. (Final Project Report)
Dennis. (2012). Amending for soil quality and carbon sequestration. BC Organic Grower, 15:(2). http://certifiedorganic.bc.ca/publications/bcog/issues/Vol15N2.pdf
Dennis, Mark Johnson, and H. Wittman. (2012) Biochar Manual for Small Farms in BC (Final Project Report)
Samantha Gambling
MSc. Integrated Studies in Land and Food Systems (ISLFS), UBC, 2013-2016
BSc. Honours with Distinction; Combined Biology/Psychology; University of Victoria, 2006-2011
Bio
Samantha completed her MSc in Integrated Studies in Land and Food Systems (ISLFS). Born and raised on the West coast, Sam developed a passion for ecological systems early in life and completed a BSc honours degree in Combined Biology/Psychology at the University of Victoria, studying evolutionary ecology of Three-spined Stickleback populations in Haida Gwaii. Her career now focuses on foods systems education, political advocacy and grassroots program development; she is currently working as a Senior Programs Advisor for the Public Health Association of BC and coordinating the BC Chapter of the Coalition for Healthy School Food.
Thesis
Canadian supply management : a food sovereignty policy? British Columbia and New Zealand industry stakeholder perspectives on dairy policy in a neoliberal era
Sam's research focused on dairy policy and food sovereignty in British Columbia. It investigated the role of supply management in the BC dairy industry to understand its impacts on, and potential for, food sovereignty. Methods used include qualitative interviews, document analyses, and case studies. This research informs sustainable food initiatives currently underway in British Columbia, including municipal food policy charters and industry-led programs. In understanding the impacts of dairy policy on food sovereignty and identifying key challenges, Sam hopes to further these local efforts and promote just and sustainable agri-food systems in British Columbia.
Selected Publications
Gambling, SJ.  and TE. Reimchen.  2012.  Prolonged life span among endemic Gasterosteus populations. Can. J. Zool. 90: 284-290. Retrieved from http://www.nrcresearchpress.com/doi/abs/10.1139/z11-133#citart1
For more, please see Sam's LinkedIn
Jill Guerra
MA in Resource Management and Environmental Studies, University of British Columbia
BA in International Development (Economics stream) and Latin American Studies, University of Guelph.
Bio
Jill completed her Master's degree at the Institute of Resources, Environment and Sustainability. Following her Master's degree, Jill worked in Canada's organic sector conducting research and policy analysis with the Canada Organic Trade Association and the Canadian Organic Growers. Currently Jill is internationally focused as an Agriculture and Food Systems Advisor working on global development policy and programming at Global Affairs Canada. She also contributes to policy advocacy at the local level as a member of the Ottawa Food Policy Council.
Thesis
Pathways to agroecology: mediated markets and credit access in Santa Catarina, Brazil
Jill's thesis examined to what extent Brazil's National School Feeding Program (Programa Nacional de Alimentação Escolar – PNAE) was able to create incentives for family farmers' to transition to agroecology and organic agriculture. Her research employed mixed methods analyzing Brazilian agricultural census data and conducting in-depth, qualitative interviews with farmers participating in the PNAE. Her research found that the PNAE provides an economic incentive for small-scale farmers to begin an agroecological transition by creating a price-differentiated market that is otherwise absent in the regional context. However, without external network linkages – such as participation in farmers' associations, cooperatives, and non-governmental agricultural extension programs that support agroecological practices – the influence of PNAE is limited in stimulating a broader scaling up of agroecological production. For this research Jill received the Freda Pagani Award for Outstanding Master's Thesis.
Selected Publications
Roberts, W and Guerra, J. (2019). Submission to House of Commons Standing Committee on Agriculture and Agri-Food regarding Perception of and Public Trust in the Canadian Agricultural Sector.
Guerra, J., Blesh, J., Schmitt Filho, A. L., and H. Wittman. (2017). Pathways to agroecological management through mediated markets in Santa Catarina Brazil. Elementa Sci Anth.5: 67.
Guerra, J.(2017). Canadian Organic Market Report: Trends and Opportunities. Canada Organic Trade Association Report.
Guerra J. & L. Martin. (2017) State of Organics: Federal-Provincial-Territorial Performance Report. Canada Organic Trade Association Report.
Guerra, J., Amir, N., Harper, S. & S. Kiamanesh. (2016) Inequality Explained: Will the Trans-Pacific Partnership Affect Canada's Food Sovereignty? Open Canada.
Franko, A., Kaplan-Hallam, M., Guerra, J.& P. Maji. (2015) Mount Polley: A Call for Improved Coordination and Transparency in Compliance Monitoring and Enforcement for Mines in BC. Institute of Resources, Environment and SustainabilityWorking Paper Series.
Gillies, J.A., Nickling, W.G. and Guerra, J. (2013) A Feasibility Study for the Development of a Dust Prediction System, Final Report to the BC Hydro (from Nickling Environmental Ltd), Peace River Water use Plan, 60p.
Amber Heckelman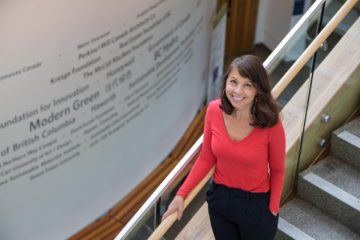 Ph.D. in Integrated Studies in Land and Food Systems, University of British Columbia
M.S. in Environmental Science, Washington State University
M.A. in Cultural Anthropology, Washington State University
B.A. (Double Major) in Social Ecology and Environmental Analysis, University of California-Irvine
Bio
Amber completed her PhD in Integrated Studies in Land & Food Systems in 2019. She is currently a food systems researcher, consultant, and activist committed to creating sustainable, equitable, and resilient food systems through knowledge translation and mobilization. Her work covers a range of topics, including food sovereignty, agroecology, resilience, food procurement, and landscape management. She has over a decade of experience connecting and mobilizing research, ideas, policies, people, organizations, and communities. Amber is a Bullitt Environmental Fellow, Liu Scholar,  Public Scholar, Sustainability Scholar, and Mary and David Macaree Fellow.
Thesis
Socioecological analysis of smallholder farming systems in the Philippines: identifying multi-scalar pathways and barriers to resilience
Amber's dissertation work was a collaborative project carried out in partnership with a grassroots, farmer-led network responsible for helping over 30,000 smallholders in the Philippines transition to diversified organic systems. The project comparatively measured 13 agro-environmental indicators for resilience across organic and conventional rice systems, carried out an analysis of the organic transition currently underway in the Philippines, and examined the link between the network's food sovereignty development approach and small-scale farmers' capacities for resilience building.
Selected Publications
Heckelman, A. (2019). Enhancing Smallholder Resilience: Organic Transition, Place-based Knowledge & Local Resource Generation. Journal of Agriculture, Food Systems, and Community Development.
Heckelman, A., Smukler, S., & Wittman, H. (2018). Cultivating climate resilience: a participatory assessment of organic and conventional rice systems in the Philippines. Renewable Agriculture and Food Systems, 33(3), 225-237. https://doi.org/10.1017/S1742170517000709 (Featured on the United Nation's FAO website)
Heckelman, A. (2018). A Primer on Local Food Systems [Book review]. Journal of Agriculture, Food Systems, and Community Development. Advance online publication. https://doi.org/10.5304/jafscd.2018.082.003
Holmes, E., Black, J., Heckelman, A., Lear, S., Seto, D., Fowokan, A., & Wittman, H. (2018). "Nothing is going to change three months from now": A mixed methods characterization of food bank use in Greater Vancouver, Social Science & Medicine, 200: 129-136. https://doi.org/10.1016/j.socscimed.2018.01.029
Heckelman, A, & James, D.  (2017, March 21). Liu Debates: Should we label GMO foods? [Blog post]. Liu Institute for Global Issues. http://liu.arts.ubc.ca/news-and-view/liu-debates-gmo-debate-summary/
J. Chappell, Moore, J., & Heckelman, A. (2016). Participation in a local city food security program increases ant diversity: the case of Belo Horizonte, Brazil. Agroecology and Sustainable Food Systems, 40(8): 804-829. https://doi.org/10.1080/21683565.2016.1160020
Heckelman, A, & Wittman, H. (2015). Food Sovereignty: A framework for assessing agrarian responses to climate change in the Philippines. ASEAS – Austrian Journal of South-East Asian Studies, 8 (1), 87-94. https://aseas.univie.ac.at/index.php/aseas/article/view/515/842
Chris Hergesheimer
Ph.D. in Integrated Studies in Land and Food Systems, University of British Columbia
MA in Sociology, Simon Fraser University, 2009
BA in Anthropology, Simon Fraser University, 2006
Bio
Chris Hergesheimer completed his PhD in the Integrated Study of Land and Food Systems at UBC. Chris' past work includes an in-depth industry analysis of local food and marketing systems and additional extensive analysis of Short Food Supply Chains in S.W. British Columbia. His current research interests revolve around exploring the congruency of Fair Trade programs with Food Sovereignty principles through comparative case study work in Ecuador and Haiti: "From Inclinations to Indications: Mapping and Measuring Food Sovereignty in Export Oriented Supply Chains" Additional research with the interdisciplinary Think, Eat, and Grow Green Globally (TEG3) project is focused on tracing the pathways and processes between various agriculture production models, health equity and sustainability outcomes in British Columbia and Ecuador. Chris is an ex small scale flour miller and currently an active musician. He lives with his family in a small cabin on the Sunshine Coast.
Thesis
Practical mergers: export-oriented value chains and food sovereignty pathways in Haiti and Ecuador
This research explores the benefits and challenges of small-scale farmers' participation in international supply chains. This work explores the practical mergers between market-based models of food system transformation, such as fair trade, and more radical social movement approaches such as food sovereignty within tropical fruit value chains in Haiti and Ecuador. This dissertation acknowledges the tensions of merging such approaches while also highlighting the distinct, yet complementary roles that different approaches to food system transformation can play in the development of more equitable, sustainable and participatory international trading arrangements.
Victoria Ostenso
MSc in Integrated Studies in Land and Food Systems,  University of British Columbia
BA in American Studies (with distinction), Carleton College
Bio
Victoria completed her Master's program in Integrated Studies in Land and Food Systems with the support of a Fulbright Research Grant. Her ethnographic research seeks to learn from community-based solutions to food insecurity in immigrant and refugee communities.  Raised in a small town in Northern Wisconsin, Victoria has seen the potential that small-scale agriculture has to bring rural communities together and the utility of food as a tool for community organizing. At Carleton, her research looked at relationship between food access programs and immigrant and refugee communities in rural Minnesota and the US/Mexico Borderlands.
Outside of the classroom, Victoria sought ways to create community around food as manager of the campus farm, mentor of youth cooking classes, and coordinator of the gleaning volunteer program. In 2013, she was awarded a Philips Scholarship in Community Service which provided the seed money for her to create the Farmer to Family program, a mobile vegetable market aimed at making local food and culinary workshops available to people in low-income neighborhoods.
Victoria's participation in food security initiatives has lead her to believe that solving hunger is not just about access to "healthy" food, it is about community resilience. She is excited to be part of the UBC community and hopes her ethnographic research will to provide insight to hunger relief organizations working with diverse populations and fold new voices into food studies scholarship.
Thesis
Planning for whom? The practice of cultural inclusion in alternative food initiatives in Metro Vancouver
This thesis calls attention to the approaches and outcomes of alternative food initiatives (AFI) towards cultural inclusion and racial justice through two case studies. The first is an analysis of the approaches to cultural inclusion by four food policy councils in Metro Vancouver. The second takes a closer look at one AFI, the Richmond community garden program, to better understand how garden participants navigate and benefit from the convergence of difference in public gardens. Through interviews, participant observation, and document analysis this thesis exposes the complexity of shifting towards culturally inclusive practice and provides key learnings for AFI practitioners as they strive towards more culturally inclusive outcomes in their own context.
Anelyse Weiler
PhD Candidate in Sociology, University of Toronto
M.A. in Sociology, Simon Fraser University
B.Sc. (Hons.) in Global Resource Systems, UBC
Bio
Anelyse completed her Master's program in Sociology and is currently a PhD Candidate at the University of Toronto and a College Professor of Sociology at Okanagan College. Her research, teaching and advocacy are focused on decent work, dignified migration and vibrant farm ecosystems. Her current projects include research on equity for migrant agricultural workers, along with the production of meat that is marketed as ethical and sustainable. Anelyse's doctoral dissertation investigates the emerging craft cider industry in the Canadian and U.S. Pacific Northwest. This project examines the dynamic tensions between craft agrarian livelihoods, farm labour, food security and farmland preservation. Her research has been supported by SSHRC and Pierre Elliott Trudeau Foundation scholarships. Personal website: https://anelyseweiler.com/
Master's Thesis (Co-supervised by Dr. Hannah Wittman and Dr. Gerardo Otero)
Rock Stars and Bad Apples: Alternative Food Networks and Precarious Farm Worker Regimes in British Columbia
This study sheds light on how initiatives to advance food system sustainability – alternative food networks – have addressed the precarious employment of farm workers. It compares how alternative food networks in British Columbia have engaged with flexible and precarious work regimes for migrants hired through Canada's Temporary Foreign Worker Program and un(der)paid interns. Based on in-depth interviews, observation and document analysis, this study demonstrates how alternative food actors can normalize a precarious farm work regime. Through the frame of a moral economy, equity in farm labour is depicted as either a non-issue, a necessary challenge in the transition to sustainability, or else an issue that should be addressed through consumer-driven regulation instead of 'one-size-fits-all' regulation by the state. This moral economy framing depicts precarious farm employment as limited to anomalous cases of individual 'bad apple' farmers. The simultaneous popularization of 'rock star farmers' by alternative food networks can obscure structural inequities affecting farm workers and dampen the impetus for food movement organizing.
Selected Publications
Weiler, A. M., & McLaughlin, J. (2019). Listening to migrant workers: should Canada's Seasonal Agricultural Worker Program be abolished? Dialectical Anthropology, 1-8. https://doi.org/10.1007/s10624-019-09563-4
Weiler, A. M. (2019). Whose Labor Counts as Craft? Terroir and Farm Workers in North American Craft Cider. In A. Bonanno, K. Sekine, & H. N. Feuer (Eds.), Geographical Indication and Global Agri-Food: Development and Democratization. Abingdon, ON and New York: Routledge.
Weiler, A. M. (2018). A food policy for Canada, but not just for Canadians: Reaping justice for migrant farm workers. Canadian Food Studies/La Revue canadienne des études sur l'alimentation, 5(3), 279-284. https://doi.org/10.15353/cfs-rcea.v5i3.312
Weiler, A. M., McLaughlin, J., & Cole, D. C. (2017). Food security at whose expense? A critique of the Canadian temporary farm labour migration regime and proposals for change. International Migration, 55(4), 48-63. https://doi.org/10.1111/imig.12342
Weiler, A. M., Levoke, C. Z., & Young, C. (2016). Cultivating equitable ground: Community-based participatory research to connect food movements with migrant farmworkers. Journal of Agriculture, Food Systems, and Community Development, 6(2), 73-87. https://doi.org/10.5304/jafscd.2016.062.012
Weiler, A. M., Otero, G., & Wittman, H. (2016). Rock stars and bad apples: Moral economies of alternative food networks and precarious farm work regimes. Antipode, 48(4), 1140-1162. https://doi.org/10.1111/anti.12221
Weiler, A. M., Hergesheimer, C., Brisbois, B., Wittman, H., Yassi, A., & Spiegel, J. M. (2015). Food sovereignty, food security and health equity: a meta-narrative mapping exercise. Health policy and planning, 30(8), 1078-1092. https://doi.org/10.1093/heapol/czu109
See Google Scholar for a full list of publications.